Post by xoDeathy on Oct 1, 2018 11:01:47 GMT -6
Name
: Crush Luminit
Age
: 19
Gender
: Male
Description
: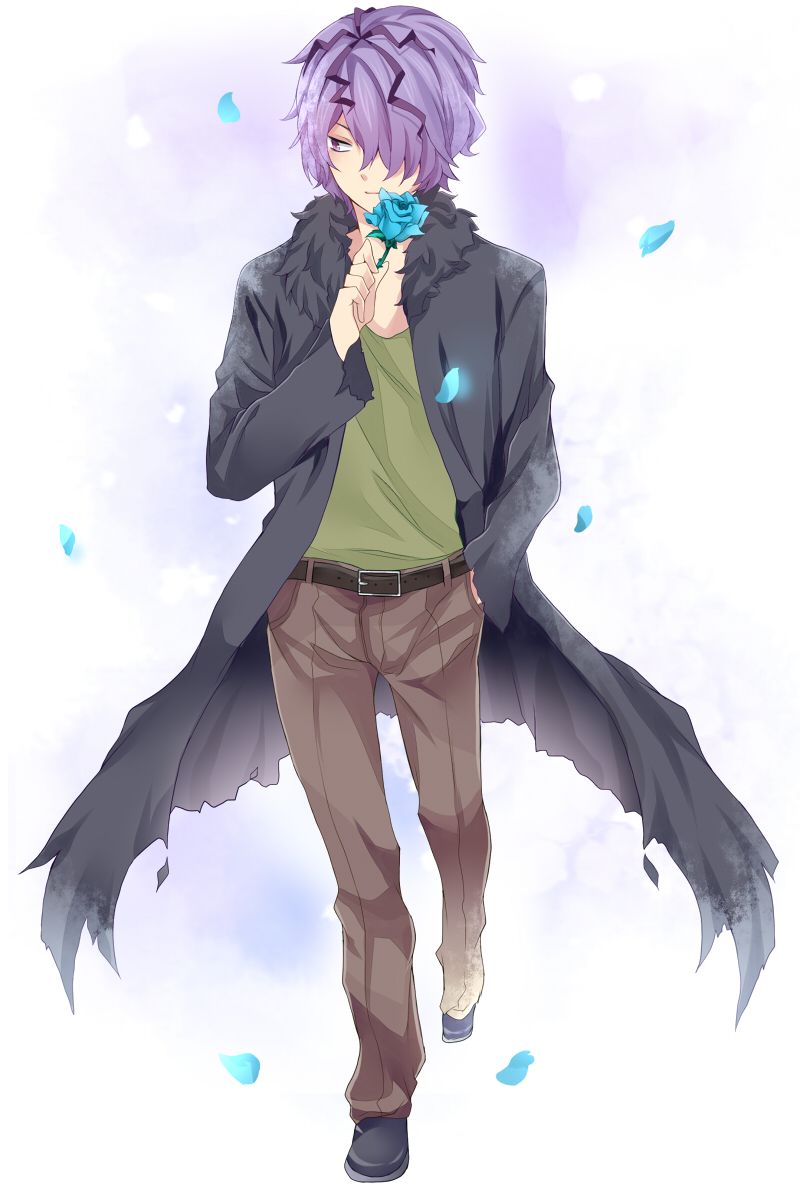 Height: 6'
Crush has light lavender hair. He wears a teal-ish shirt with a black overcoat. He doesn't wear many other pants besides brown kahkis and black dress shoes.
Personality
:
<Chapter 1>

Rather shy since Kindergarten, Crush has never been a part of the "in-crowd". He would be the one person you know who never engages in activities with others. Ironically, his personality made him very popular and well-known throughout his old schools. He is also very fond of blue roses.
<Chapter 2>

With Crush's return, his personality has taken a sharp 180. He's become devious, sneaky, and criminal minded. He is still fond of his blue roses, but everything else about him is poisonous.
Biography
:
<Chapter 1>

When Crush was 7 years old, he used to live in a quiet area with his father and mother. One day his mother didn't come home and most of her stuff was nowhere to be found. At the age of 8, his Dad moved himself and Crush to a cheap apartment area near Echo Ridge in order for him to get education. After coming home from his first day of school, his Dad and all of his Dad's stuff were gone as well. He went to the park, not knowing what to do, and started to cry. After meeting this AM-being, Spider acted as his guardian for the absence of his parents. Now in his present time Crush is a grown teenager, making sure to keep up in his studies at school, and still searching for the reason behind the disappearance of his parents.
<Chapter 2>

After disappearing for 3 years, Crush returns a criminal. Spider was no longer with him, instead he was accompanied by a new FMian, Dynos.
Name: Dynos
Gender: Male FMian
Description:

(Credit to Helge C Balzer, I did not create this image)
An FMian with the form of a regal spectre. He consistently emits green mist from his persona when out of the Hunter VG and not fused with Crush. His voice is a deep, echoing, and vibrating tone, as if he was both far away and close to someone in a large tunnel.

Personality: Vile, regal, intelligent, and sinister, Dynos acts as if he was royalty. He will not pity anyone that is not willing to cooperate with him, and treats all as lesser than him and his knowledge.

Biography: Dynos allegedly claims he was of high status when he lived on Planet FM. Wether it's true or not, Crush has never really cared. It is clear Dynos has Crush in the palm of his hand, and Crush gladly serves as an agent of the chaos Dynos seeks to bring.
Name
: Deathchanter
Elements
:
-Main:
Poison
-
`Base: Poison inflicts a Stacking Pitiful Health Bug, dealing Pitiful Damage per turn per stack. Stacks last for two turns.
`v2: Status Effects reduce 1 Damage Level less than normal. Status Effects that would normally reduce one level instead only reduce Pitiful Damage.
`V3: Poison does not have a Mandatory Cooldown for the User, but can still only be inflicted once per turn.
-Sub:
Chaos
-
`Base: Access the Chaos Server 1/Battle, which lasts for the entire battle.
-Net Weaknesses: Sniping, Cycle 3 Elements, Cycle 1 Elements-
-Net Neutrals: Dark, Blade
-Net Strengths: Light, Cycle 4 Elements, Cycle 2 Elements-
Gender
: Male
Description
:
Crush adorns the regal appearance of Dynos in their Wave Warrior form; Deathchanter. Deathchanter's left eye consists of a purple emblem across the pupil in the shape of a moon. Crush's hair grows longer and becomes a solid purple. His outfit primarily becomes a black robe with a purple haze on the inside. Deathchanter's voice matches that of Dynos.
Strengths and Weaknesses
:
Close Quarters Trickery: After much practice in taijutsu, Crush excels at being able to strike while avoiding his opponent's CQC strikes.

Overflowing Intellect: The combined minds of Crush and Dynos allow them to have better analyzation of enemy tactics, electronics, virii weaknesses, and Battle Card efficiency, greatly improving interactions with them.

Charismatic Resolve: Due to their sophisticated appearance, way of speaking, and wisdom, they make even those of the strongest of will falter ever so slightly to ensure that Deathchanter is in fact a threat.

Push the Advantage: Deathchanter grows more confident and accurate as long as he keeps the lead.

Long Range Fallout: Trained thoroughly in hand to hand combat, Crush struggles to dodge ranged attacks while fighting with some of his own.

Burden of the Mighty: The more Wave Warriors Deathchanter has to focus on lowers their concentration on evading in favor of being able to at least take one of them down.

Underwhelming Output: Due to his arrogance, Deathchanter tends to dwell more so on the mistakes he makes, lowering his general focus.

Crossed the Line: Deathchanter grows more desperate and inaccurate the closer to death he gets.

Version: v1
Experience: 0
Perks Selected:
--The user advances their Main Element from v2 to v3.
--Once per turn, the user may roll two dice and take the preferred result.
Health: 100%
Action Slots: 3
Unstated Attack Damage: Pitiful (2%)
Weapon Slots: 3
Natural Regen: 0
|Weapons|
Weapon Name: Deathchanter's Vile Brawlers
Weapon Description: Two black gloves laced with synthetic data capable of wrecking an opponent's systems. Created by Crush himself.

<Death Jab>
Type: CQC
Element: Poison/Chaos
Description: Deathchanter charges poisonous energy around his right hand, acting as if it was a blade.
Damage: Low (3%)
`Applies -Poison-, -1 Damage Level

<Death's Caress>
Type: CQC
Element: Poison
Description: Deathchanter follows up his landed strikes with an equally punishing game of chance, infusing both of his hands with an unstable amount of poisonous energy.
Damage: Modest (7%)
`No Sub Element; +1 CD
`Can only be used against a target hit by <Death Jab> last turn; +2 CD
`Upon use, Deathchanter rolls a d2:
``1: -1 Damage Level
``2: +1 Damage Level
Weapon Name: Deathchanter's Robe of Thousands
Weapon Description: A cloak able to generate bonus energy in order to create entities of Chaos. Created by Crush himself.

<Summoning: Totem of Devastation>
Type: Immobile Summon
Element: Chaos
Description: Deathchanter's robe ignites with green flames as a 3 meter tall, 1 meter wide Totem of variously stacked skulls appears from it, landing in the position right behind Deathchanter.
Health: High (10%)
Damage: N/A
`Attack used by separate Attack Slot, granting bonuses
`8 CD (5 Mand.)

<Totem of Devastation: Hour of Doom>
Type: Ability (Summon)
Element: Chaos
Description: The Totem constantly emits a vile toxin that plagues the battlefield while it exists.
Damage: N/A
`While on the field, all combatants may be inflicted by an additional stack of -Poison- per turn, excluding Deathchanter
`While on the field, Status Effects taken by Deathchanter deal Pathetic Damage per turn of their duration
Weapon Name: Deathchanter's Eye of Twilight
Weapon Description: Deathchanter self modified his left eye to gain abilities capable of altering the reality of things in a fight; though, it may only be used to cause Chaos.

<Dawn>
Type: Recovery
Element: N/A
Description: Deathchanter's left eye glows as his body is encased in a risky display of green flames, causing him to either emerged refreshed, or scorched.
Healing: Moderate (5%)
`Upon use, Deathchanter rolls a d4:
1: -1 Damage Level, and <Dawn> instead deals damage to Deathchanter
2: -2 Damage Levels, and <Dawn> instead deals damage to Deathchanter
3: -1 Damage Level
4: Additionally cleanses 1 Tier 2 or lower Status Effect afflicting Deathchanter
`3 Mand. CD


<Dusk>
Type: Warp
Element: N/A
Description: Deathchanter's left eye glows as his body is encased in shadows, disappearing and reappearing in another visible spot.
Distance: 2m
`Deathchanter inflicts Moderate (5%) Damage to self upon use; +1 Damage Level
`8 CD (5 Mand.)

|Inventory|
|Brother Bands|
1:
2:
3:
4:
5:
6:

Favorite 1: Scythe
Favorite 2: Sword
Favorite 3: Long Sword
Favorite 4: Wide Sword

|Ability Waves|
Link Power: 0 || Indie Frags: 0
|Battle Cards|
Standard Cards
Cannon
Air Spread
Gatling
Mad Vulcan
Mini Grenade
Power Bomb
Sword
Long Sword
Wide Sword
Sync Hook
Big Ax
Scythe
Fire Dance
Paralyze Plus
Attack +10
Guard
Junk Cube
Area Eater
Moai Fall
Mop Lance
Heat Upper
Fire Bazooka
Piranha Kiss
Voltic Eye
Jumbo Hammer
Chain Bubble
Plasma Gun
Flicker Kick
Ice Meteor
Arach Attack
Recover 50
Chaos Card
Mega Cards
Empty
Giga Cards
Empty
Illegal Cards
Empty